'MLB 2K12' first look preview
Jan 18 1:44 PM ET By Jon Robinson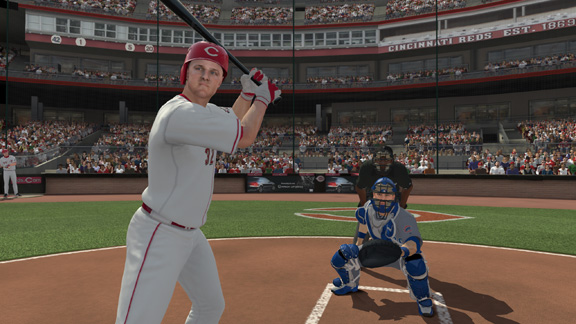 "MLB 2K12" hopes to be the most realistic edition of the baseball franchise.
Justin Verlander just hung a slider to Albert Pujols. And while Pujols was a fraction out in front, fouling the pitch off down the line, Verlander won't be so lucky next time he throws the same pitch.
That's because with "MLB 2K12's" new Dynamic A.I., hitters will now remember how certain pitchers attack them, and if a pitch fails in one at-bat, the effectiveness of that pitch will suffer, not only in the same at-bat, but later on in the game if Verlander hangs another slider in Pujols' direction.
On the flip side, if Verlander's fastball is so nasty that Pujols goes down swinging, the next time they face-off, his fastball will continue to bite, and his fastball ratings will increase in performance.
This is just one of the new directions "MLB 2K12" is heading, as the game's designers are looking to further intensify the showdown between hitters and pitchers, making every pitch matter on a level unseen in virtual baseball.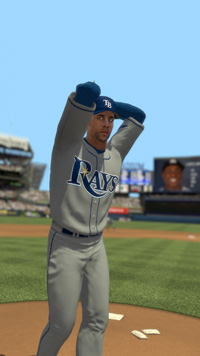 David Price stars in "MLB 2K12"
As a pitcher, it's about approaching every batter differently, as graphics will pop up to show where you hit your spots and where you missed last time you faced a specific player. This includes everything from pitch sequences to location to first pitch accuracy to the pitch that's getting the most outs.
So if Buster Posey steps up and smacks a single off your fastball in the first inning, that means he's dialed into your speed, and your fastball ratings will drop down a little bit next time he steps up to the plate. This means you're going to need to adjust your strategy on the fly, or the Giants catcher might give you a case of virtual whiplash by going yard off yet another fastball.
"Our pitching mechanic is really what we hang our hat on, and it's what we feel differentiates us from the competition," explains 2K's Chris Snyder as he shows me the new game. "We utilize our Inside Edge scouting reports and all of the data from STATS LLC, and we track how many fastballs, how many curves they throw in real life, and we mimic that data in the game. So if you're abusing a pitch this year, and if you're using a pitch way more than say, Justin Verlander throws it in real life, your stats are going to drop and it's going to be more difficult to hit your spots."
This is just one of the examples of "MLB 2K12's" mission to offer a more realistic baseball game this year.
Another example is the game's revamped throwing system. There is a new throwing meter based on the fielder's defensive ability, also taking into consideration the type of throw that is being made. So if you're trying to make a throw on the run, it's going to be a much more difficult throw than if you're able to set your feet. This is basically the opposite of "MLB 12: The Show," where Sony wants you to pre-load your throws. In "2K12," you're better off gathering the ball, setting your feet, then hitting the throw button, otherwise you're going to have a tough time being accurate. "This is one of the things we got hammered on last year," says Snyder. "Baseball fans know that it's all the little stuff that make a baseball video game successful. Last year, we had outfielder's catching a fly ball for the third out, but they would still stop and gun the ball back in to second base. That doesn't happen in real life. So this year, we really went in and concentrated on getting all of the little things right about the game. We want the game to be fun, but we don't want anything in the game this year that breaks the realism."
The top "MLB 2K12" player this year will win $1 million dollars.
Another big improvement being made to the game is the variety of hit animations. Last year, you had way too many soft liners, as hit distribution was more of a roll of the dice than based on actual physics. This year, you're finally going to see a more physics-based result based on the type of swing you're making and the location of the pitch. And in the few innings I was able to play, I saw everything from lasers being shot off the wall to a better variety of grounders spitting out into the infield, giving the game a much more realistic look and feel than what was presented last year.
In terms of presentation, over 80 hours have been added to the commentary, not to mention, all of the gloves in the game have been completely redone. "All of our gloves looked like plastic before," adds Snyder. "Now when you're playing, they finally look like leather mitts. You'll see the stitching, you'll see the texture, and again, it might not sound like a big thing, but it just adds to the overall look of the game.
"We even brought in a real catcher this year to re-capture all of the catching animations, and the difference in what you see is staggering."
Add in the return of the
million-dollar challenge
-- a competition where consumers who throw perfect games against the computer will be ranked online in terms of difficulty (pitcher you're playing as, team you're playing against), with the top eight slugging it out in a single-elimination tournament for a million bucks -- and you have a franchise that finally seems to be moving in the right direction.
Says Snyder: "We go on all the message boards, we read the complaints, and I think we've learned from our mistakes. Like I said, baseball video games are all about getting those little things right in order to make the most realistic experience possible, and this is the year where we finally got it right."
"MLB 2K12" hits stores March 6 for the Xbox 360, PlayStation 3, PlayStation 2, Wii, PSP, DS, and PC.
--------------------------------------------------------------------------------------------------------------------------------------------------------------------------------------------------------------------------------------------------------------------Major League Baseball 2K12 - Being That Perfect Pitcher
By Marko Djordjevic, GameSpot, Posted Jan 18, 2012 2:00 pm GMT
Dynamic AI highlights some of what baseball fans can expect later this year with MLB 2K12.
It's hard to argue against the fact that pitching is the most important aspect of baseball. Regardless of how everyone else is playing on the field, if your pitching is lacking, then the likelihood that your team will win is diminished. 2K Sports understands this, and for this year's MLB 2K12, on top of the many things 2K is addressing, pitching is seeing the biggest changes.
Great pitchers know how to adjust when facing any batter.
For 2K12, there are a number of different things being tweaked to improve the pitching aspect of the game. For starters, there is greater feedback thanks to the inclusion of more detailed pitch counters and trackers. Past games have included markers to showcase the history of throws for the current batter, but now you can get a look at all pitches thrown. On top of that, there are pitch trackers that highlight all pitches thrown to the specific-handed batters. This way, you can get a better idea of what is working depending on the kinds of batters you are facing.
Because of the game's new dynamic AI system, it's important to know which pitches work. Now, batters will make adjustments to combat the pitches being thrown at them. If you rely too heavily on one kind of pitch, even if you've been throwing strikes, batters will notice this and change their approach accordingly. With the dynamic pitching, after every throw, markers will show you which pitches are working, will suggest which ones to use, and will highlight the ones to avoid.
In addition, as you progress through a game with the same pitcher, the response in terms of how effective he is in both accuracy and speed will be shown to give you a better idea of what to expect. As you move deeper into the game and increase your pitch count, even with a fantastic pitcher, the effectiveness of all your pitches will suffer, and deciding the best course of action will come heavily into play to ensure your team leaves with a win.
Pitching is not the only aspect of the game that 2K Sports is addressing for 2K12. 2K heard the complaints about past games and is looking to adjust everything that fans of the series have noted as being weak. Fielding is being worked on to ensure better throwing by outfield players. Also, player animations, specifically for the catcher, have been heavily worked on to ensure the players move as they would in real life. Lastly, the graphics engine and lighting have been tweaked to give a more realistic viewing experience.
2K Sports is promising a more realistic-looking game.
If you haven't been keeping track, baseball season is only a few months away, and MLB 2K12 is on track to deliver a solid experience. If you're not having a fun time pitching, then it's almost impossible to enjoy virtual baseball. 2K Sports knows this and is hoping that what it's doing with 2K12 will please fans of the sport and bring back those it has lost over the years. Expect to see and hear more about the game as we approach its March 6 launch on all major consoles.
--------------------------------------------------------------------------------------------------------------------------------------------------------------------------------------------------------------------------------------------------------------------

'MLB 2K12' million-dollar competition
January, 16, 2012 2:58 PM ET By Jon Robinson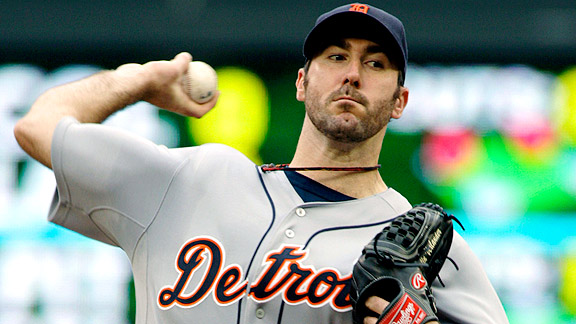 Justin Verlander is here to offer gamers advice on how to win the million-dollar prize.
Play a video game, win a million bucks.
Sound too good to be true? Well, it isn't, as 2K Sports is back offering $1 million to the best "MLB 2K12" player on the planet.
This is the third year in a row 2K is offering the eye-popping prize, but the competition has changed dramatically this time around.
First off, it's no longer the first person who throws a verified perfect game that takes home all the loot. For "MLB 2K12," the competition to throw a perfect game will last from April 3 through April 30, with the top eight perfect game performances being ranked on an overall leaderboard based on difficulty. Gamers will earn points depending on the pitcher who throws the perfect game (earn more with Barry Zito than say, cover athlete Justin Verlander), as well as the team you throw the perfect game against (blanking the Yankees lineup will score higher than blanking the Astros).
Best of all, gamers no longer need to videotape the perfect game in order to prove your skills. Now, all you do is play in "Perfect Game Challenge" mode, and once the final out is recorded, a code will pop up on screen that you then enter on 2K's contest site, and you're good to go.
When the top eight performances are ranked, those gamers will then be flown to New York for a single-elimination tournament where the player who emerges victorious takes home the million bucks.
"I never thought you could get rich playing a video game," says "MLB 2K12's" cover athlete, Justin Verlander. "This is something that's definitely unique, and I'm proud to be a part of it."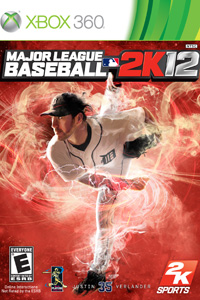 Verlander covers "MLB 2K12."
So proud, in fact, that Verlander wanted to give advice to ESPN readers on how to prepare for video game perfection (and a million dollars).
"First and foremost, you have to remember that this is a game," Verlander says. "I actually need to remind myself of that in real life a few times a year, that I'm playing a game, even if it is on a bigger stage. So the first thing you need to do is go out and have fun with it and try not to get frustrated. I know that's easier said than done, but in the video game, you always have the opportunity to try again.
"That's the biggest difference between the video game and real life. In 'MLB 2K12,' if things aren't going your way, you can just restart your game. In real life, I have to wait five days, which is not quite as fun."
Verlander says that he even helped consult on the game's pitching controls to help make them feel more realistic. Says Verlander: "It's just like when I'm pitching on the mound. If you're struggling with the mechanics, you're going to struggle finding the plate. The pitching controls really help set the game apart with the way you need to practice each pitch and how you maneuver the right analog stick. If you're going to win this competition, you're going to need to put in the work.
"You're also going to need to pay attention to the Inside Edge scouting reports that are in '2K12.' These are the same scouting reports we look at before games, and this information is dead-on accurate when it comes to the strengths and weaknesses of hitters. You study this information and you'll have a pretty good shot at success."
And while Verlander is a huge gamer, 2K actually told him he's ineligible to play for the million bucks because he's acting as the game's spokesman. "We made a deal that if I throw a perfect game in real life, they'll let me play in the tournament," the AL CY Young award winner says with a laugh. "Otherwise, they won't let me in."
As for Verlander's advice on how to compose yourself while playing, it's simple: "Take a deep breath and don't back down from any hitter," he says. "In real life, when I'm on the mound, I say to myself: 'This is your moment, go get it.' Or sometimes I just say: 'Don't mess it up.' But you have to believe in yourself.
"Believe in yourself and don't forget to play as the Tigers," Verlander continues. "The controls are in your hands, but I'm confident my video game self can come through for you in the tournament. If you want, I'd even be happy to take a cut if you win."