About This File
UPDATE: I've included the 1994 Rangers as well. Since I can't change their team color from blue to red, they don't come out looking very much like 1994.
The statute of limitations for most misdemeanors in Michigan is 16 years. That means anything you did here in 1994* will, as of this weekend, be lost to history.
There are things we have all done in our lives that we are embarrassed about today. Mistakes are part of life, as is paying for those mistakes. For example, the guy who thought this...
...would make a great new logo for the Big Ten probably can't get his kids to speak to him anymore. Or like when we went to our R.A. and complained that one of our hallmates was literally the biggest douche in the world, and he told us we're probably overblowing it, well...
So we all made mistakes. Fortunately, after about 16 years, most mistakes can be forgiven. For example, in '94, nobody now cares that you only built this:
...so you could then visit terrifying disasters upon your citizenry, or that these were your friends:
By now, you can be forgiven if you cut your hair like this:
Or if you bought an album from them:
.
Hey, nobody talks about Tonya Harding anymore. Or Amy Fisher. Or Joey Buttafuoco's missing thing. Nobody remembers making Green Lantern into this guy:
Or when we put a retirement home in Tampa for old ballplayers and told Wade Boggs and Fred McGriff it was an MLB team: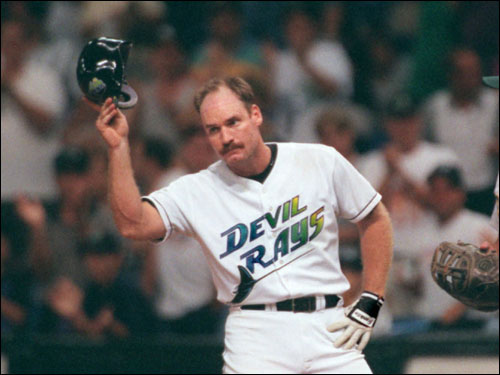 Hey, do you think the guy who thought teal was a great uniform color is still getting sh-- for it? Or the guy who picked purple for a new franchise in Colorado?
No way, man: Statute of Limitations! Just like the dudes in Detroit who once thought to themselves, hey, "Let's trash the classic block letters so we can look more like Cleveland!"
I mean, sure, the orange bills and the stupid change to a classic hat logo and stripes and using the Yankees' numbering font and letting Cecil out of his cage at night were not exactly well-thought-out things. But hey, at least they didn't shut down baseball in August and cancel the World Series.
Owait..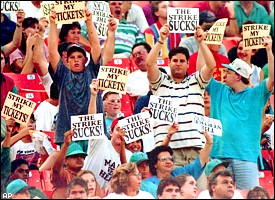 Okay, so '94 sucked. But look at the textured logos (and extra orange for the cap versus the one on the batting helmets). Look at the texture of the stripes. Look at how well the 125th anniversary patch came out. Plus I spent way too much time trying to get the numbers to look right. I mean...you gotta try these, right?
They replace the regular Tiger aways, or the Tiger roadies I've been feeding you all year:
http://www.mvpmods.c...s&showfile=5822
(wait, did I never even give you guys the '68 ones? Had those a long time. Hmmm....)
-----------------------------------------------------------
* If you thought "like your Mom" you get 1 Internet point.
P.S. Mistakes that are NOT forgiveable include whoever is responsible for making the damn computer throw, literally (by "literally" I mean "this is the real number, not hyperbole") pickoffs to 2nd base like 10 times per at-bat (because there's a 1/10 shot of getting that animation bug that will make the runner get back in slow-mo and put him out). If you know any way to fix that, and I mean ANY way, that doesn't involve something without a statute of limitations, please let me know.
P.P.S. Vandalizing the car of the person at 2K who programmed the pickoffs is illegal. Just saying.
---