About This File
These files will set the MLB rosters to official current rosters of 4/30/2010, and also change all of the portraits that MVP Modders have uploaded to date.
For example, rookie Austin Jackson's portrait will appear in all of its awesome glory when you play with the Tigers, and Curtis Granderson...[sob]...will be wearing...[shudder] a Yankee hat (Oh the wrongness!)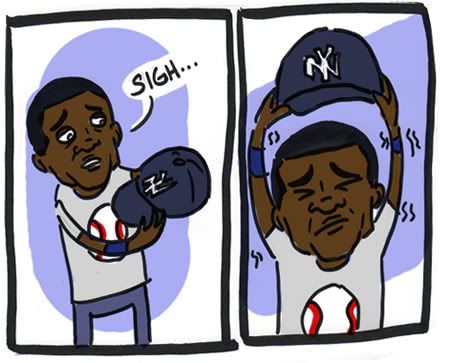 (image from Samara Pearlstein's blog, "Roar of the Tigers." If you like my mods, please give her some link love).
By the way, it's 50 megs, so...yeah.
I will try to continue to update the portrait file with the rosters as the year progresses, but the pain-in-the-butt-itude of doing so may prevent me.
Step 1: BACK UP YouR FILES
Step 2: Portrait.iff and portrait.cdf go in your MLB 2K10 folder, most likely C:\Program Files\2K Sports\MLB 2K10
Step 3: Roster.ROS goes in your saves folder under Application Data. For Windows XP:
C:\Documents and Settings\[YOUR USER NAME]\Application Data\2K Sports\Major League Baseball 2K10\Saves
FYI, the unused spaces I used to put in rookies and returnerswere as follows:
5 = Jeff Clement
9 = Allen Craig
12 = Ian Desmond
22 = Brian Duensing
30 = Jim Edmonds
33 = Jamie Garcia
39 = Craig Gentry
48 = Luke Gregerson
50 = Mark Grudzielanek
65 = Austin Jackson
81 = Kensihin Kawakami
90 = Brad Kilby
104 = Mike Lamb
115 = Rodrigo Lopez
119 = Colby Lewis
123 = Joe Mather
134 = John Raynor
139 = Ben Sheets
147 = Scott Sizemore
162 = Greg Smith
164 = Craig Stammen
172 = Steven Strasburg
176 = Mitch Talbot
179 = Jake Westbrook
181 = Jordan Zimmerman
192 = Brennan Boesch